Tom
Tom has been farming at Hope's Edge Farm since 2002 and prior to that worked at several other farms between Maine and Pennsylvania, with a focus on Community Supported Agriculture. He practices Biodynamic Agriculture, rooted in the teachings of Rudolf Steiner. Tom will be on sabbatical for most of the 2022 season, during which he will be embarking upon a bicycle tour of the US!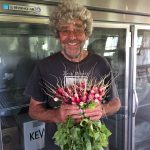 Jason
Jason has been a regular volunteer at Hope's Edge Farm for many years, as well as an avid home gardener. He enjoys working the fields as well as taking on various handyman projects. He values the principles of permaculture and has several gardens of his own in the Lincolnville area. He is looking forward to trying on farming as a career while Tom is away!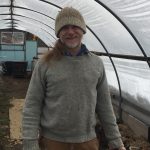 Rachel
Rachel has volunteered regularly at the farm for two seasons along with her eight-year-old daughter. When Tom asked if she would be interested in caring for the farm in his absence this season, she was up for the challenge! Rachel has been gardening for most of her adult life, with a recent focus on permaculture. In addition to working in the fields, she manages the website and email communications for the farm.