At either end of any food chain you find a biological system – a patch of soil, a human body – the health of one is connected, literally, to the health of the other.
~ MICHAEL POLLAN, The Omnivore's Dilemma
What is Community Supported Agriculture?
Community Supported Agriculture is a way of investing in local agriculture by which members purchase a share of the farm's harvest for the duration of the season, thus sharing with the farmer in both the bounty and the risk of farming. CSAs benefit both members and farmers. They build community while providing affordable farm-fresh produce directly to consumers and creating a predictable market for farm products. The first CSA here in the US was established by Dr. Booker T. Whatley of Alabama in the 1960s. Dr. Whatley, an environmentally conscious regenerative farmer, created a "Clientele Membership Club," which functioned just like a CSA and incorporated pick-your-own opportunities. Whatley wanted to encourage city folk to come out to the farm; to build community and foster a relationship between consumers, farmers, and land. He also recognized that an upfront financial commitment would help farmers afford to buy seed and invest in other immediate costs associated with growing food. Similar models popped up in Japan, Chile, and Europe during the same time period. Some credit the ideas of Rudolf Steiner in the 1920s for the origination of the principles of Community Supported Agriculture.
What does it mean to be a shareholder?
As a member of Hope's Edge CSA you will be purchasing a share of the harvest. By paying for your share in advance, you are underwriting the harvest for the entire season and are entitled to a weekly share of the local, fresh, seasonal, unadulterated produce. As the farmers, it is our responsibility to work with nature to provide a bountiful harvest. Nature, however, can be fickle and in a season of weather extremes even our best efforts may be hampered. Therefore, by purchasing a share, you not only share in the bounty, but also share in the risk. Having said this, however, under "normal" conditions there is much to share.
Pick-up Details and Cost
Our season runs for 18 weeks beginning the third week of June and ending the third week of October. We will have one on-farm pick up day this year, with reasonable accommodations made as needed. We offer two share sizes: a REGULAR share (previously called "half share") intended to feed two adults and a child or a DOUBLE share (previously called "full share") for larger families and veggie lovers. Share prices are listed on the attached sign-up form. We do offer a limited sliding scale fee and we can accommodate payment arrangements to fit your budget.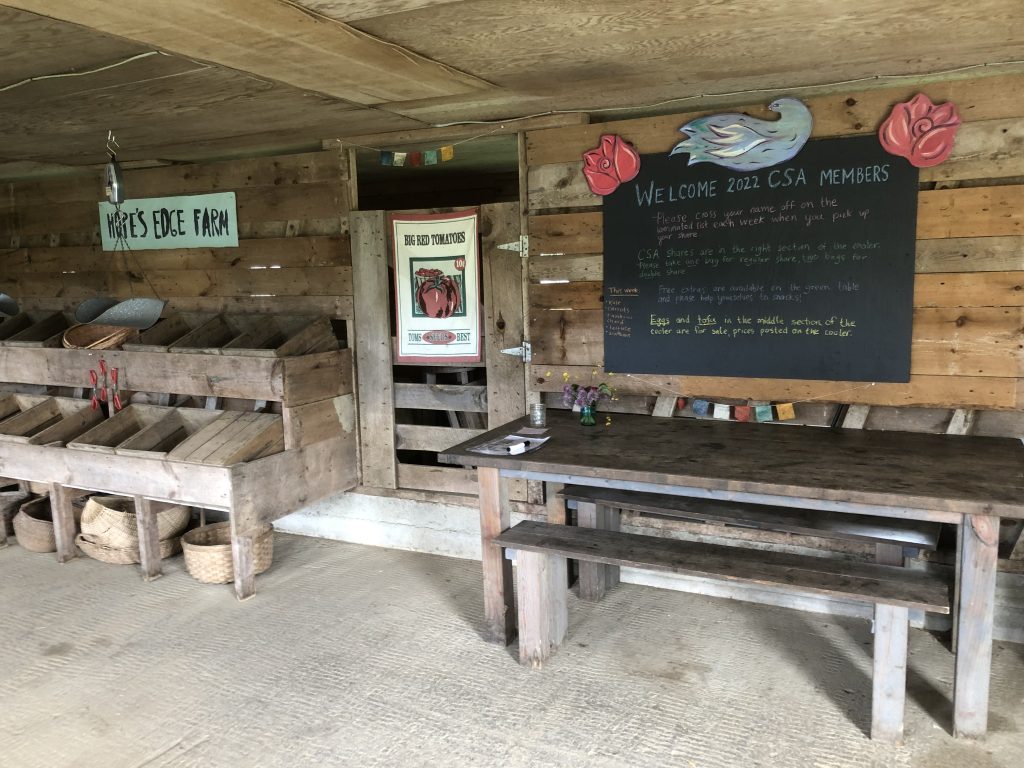 What can I expect to find in my share each week?
In general, REGULAR shares can expect a full grocery bag of produce each week and DOUBLE shares can expect twice that. Early in the season the bag may be less full, while later in the season there is typically overflow with abundant squashes, melons, and storage vegetables in addition to the usual. Over the course of the season you can expect to see the following items come and go at different points: basil, beans, beets with greens, broccoli, red and green cabbage, carrots, cauliflower, celeriac, chard, cucumbers, eggplant, bulb fennel, flowers, garlic, garlic scapes, assorted herbs, kale, kohlrabi, leeks, lettuce, melons, mesclun greens, onions, pac choy, snap peas, peppers, potatoes, radish, scallions, spinach, summer and winter squash, tatsoi, tomatoes, cherry tomatoes, and watermelon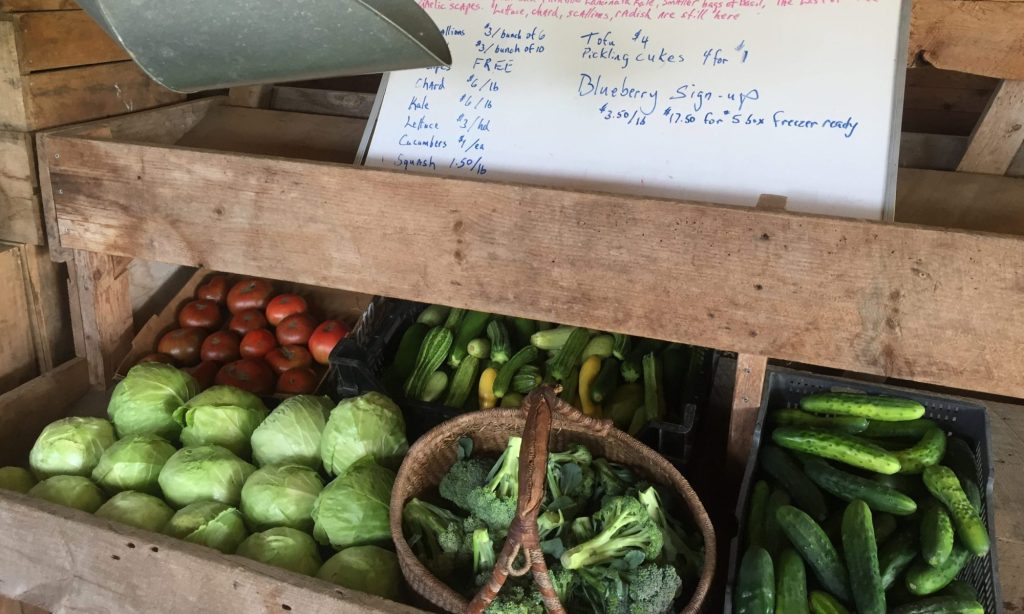 How do I sign up for a share?
Our CSA is full for the 2022 season. Please check back with us next year! In the meantime, you can enjoy our produce by shopping at our farm stand!