This first post from Tom arrived at the farm by snail mail yesterday, as Tom hasn't had much internet access up in the mountains. As a sidenote, if you're interested in following Tom on the app "Strava," send me an email (hopesedgefarm@gmail.com) and I can help get you connected.
~Rachel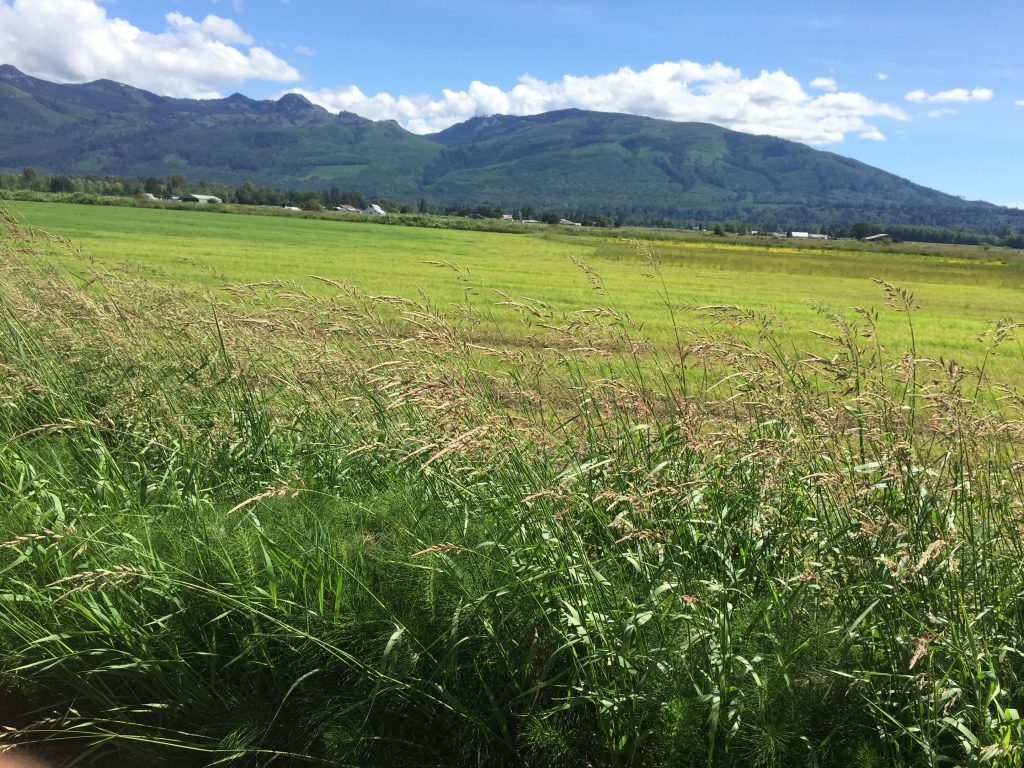 Today is the last day of June. Fifteen days ago I boarded the train in Albany NY, setting off on this cross country journey. Three nights and two days later, I stepped off the train in Seattle and thus began the second stage of the journey. Since I never had time to do many training rides, I used my first few days in Washington to ride along the waterways of Puget Sound – the eastern shore of Olympic peninsula – to Port Townsend, Whidbey Island to Anacortes, San Juan Island. I then began the eastern trek in Anacortes, Washington on Route 20 on the 22nd of June.
I don't want to skip over the first part of this journey, as it had some magic moments. On my second day out, I had my first flat tire and was unable to fill the new tire with a sufficient amount of air. Hence the tire was semi-flat. A kind couple from Port Townsend came to my rescue. The male member of this couple – Josh Porter – turned out to be the brother of Jen Porter, a friend of mine and Deb's from Camden. They took me to Port Townsend, set me up in their Winnebago, fed me dinner, pumped up my tire, gave me a phone cord (which I had already lost). In essence, they saved me on my second day out. This was my first experience of being watched over by my angel.
The trip to San Juan was special as I was accompanied by Ella Klee, the daughter of friends of mine whom I lived with in Camphill (her parents, by the way, met me in Albany when I boarded the train). Here I was able to ride without my bags. A welcome relief.
The ride from Anacortes east along Route 20 takes one across many mountain passes and through three distinct Ecological zones. The Eastern Cascades are dominated by huge cedar and firs and many large big leaf maples. This area is where the majority of the population resides. Washington Pass, at 5,477 feet (still snow in mid June), marks the division between the first two ecological niches.
On my approach to the Cascadian Range, I was able to meet with Fletcher Davis who just happened to be in the area for the day on his way into the Cascades. We had lunch together in Burlington. I was able to meet Fletcher and his partner, Lauren, on my trek up Washington Pass when they pulled over heading back to Mount Vernon. This also felt like an angelic intervention.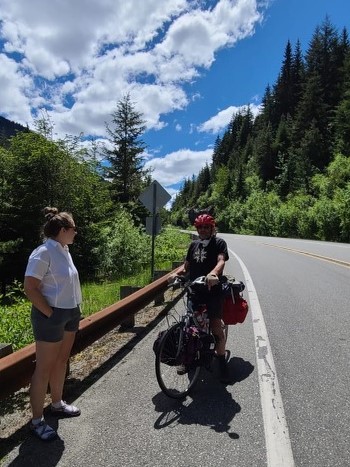 Before Washington Pass, near Newhalem, there are two tunnels. The first is long and dark. I lost control of the bike through this tunnel and fell. Traffic seemed not to slow down through this tunnel and as I fell in the middle of the road there happened to be no cars, trucks, or motorhomes passing through. Angels?
East of Washington pass is in the rain shadow of the Cascades. The land is rocky outcrops: dry, brown, few trees, hot – one day in the high 90s. In Winthrop I took advantage of a "warm shower" site. The hosts fed me dinner at 9pm, let me do laundry, gave me a bed to sleep in, let me have a shower, and fed me breakfast. Washington hospitality!
Tonasket, Washington marks the beginning of the transition to the third ecological zone. Here I found a cool park to spend the day and ultimately set up my tent for the night. Just after falling asleep, I was awakened by a downpour. No, not rain – it was the sprinkler irrigation system. I and all my stuff got soaked.
The third ecological zone is defined by more green and trees – a result, I was told, of high snowfall, which persists for a longer time than in the valley. The next day I crossed Waucondo Pass. Spent the day and night at a picnic area. Rested deeply. The last high pass – Sherman 5,575 feet – was crossed the next day.
This brings me up to yesterday's ride from Kettle Falls to Ione, with a long stop for supplies in Coleville. I've spent this morning recharging my phone and having breakfast in Ione. Today's ride will take me along the north shore of Pend Oreille River toward Oldtown Newport. I will leave Washington and enter Idaho tomorrow. I've had a major/minor bike breakdown yesterday and broke the glass on my cellphone, so at Sandpoint, Idaho I hope to get some repairs done. Although, being the weekend of the 4th, it may be a few days.
It had been my hope to do a weekly blog, but riding and recuperating from riding seems to be taking up all of my time! Rachel suggested that writing may be the way to keep those interested informed. Hope that this has been informative. Until next time. All my love to you.
~Tom