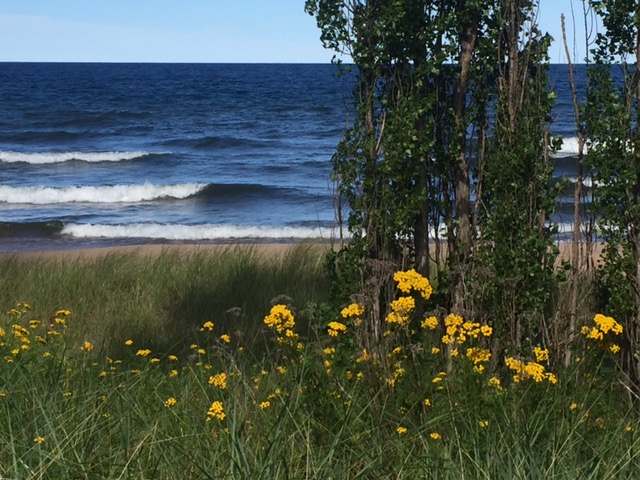 8/4/22
I arrived here yesterday afternoon after a seven hour ferry ride – on rough seas – from Grand Portage, MN. I'm waiting now to board another ferry that will take me to Copper Harbor, MI, where I will once again be pedaling my two-wheeler.
A little intro to the Isle Royale:
An island in Lake Superior designated a National park, over 99% designated wilderness, popular with backpackers, only accessible April to October. Resident creatures include wolves, moose, beaver, rabbits, loons, miscellaneous amphibians, not to mention mosquitoes and black flies. The landscape, vegetation, and rocky shores all are reminiscent of Maine – to the point where I have not been inspired to take many photos as it all seems so familiar. Nevertheless, like Maine, it is beautiful beyond description. My time here has been limited, yet I have managed to take a couple of hikes which helped me get a feel for the place. On yesterday's afternoon hike, a six or seven mile walk, I encountered a moose (or should I say we encountered one another.) It was close (within 10 feet), but brief. She was gone (out of sight) before I realized she was there. Seeing a moose is not something everyone who visits here is fortunate enough to experience. It is yet another gift I've been given on this trip.
8/5/22
Arrived on the Upper Peninsula last evening around 6pm. Rode 10 miles south of Copper Harbor until I began to run out of daylight. Camped in an open space off a side road. The night was damp, so I'm waiting for things to dry out. I'm anxious to get on the road, but putitng the tent away wet is not ideal, so maybe time for a few notes.
I've wanted to get back to some of those thoughts that I have while sitting on the bike saddle pedaling away the miles. I had previously written about hills (see blog from 7/24 and 7/25). Today I'd like to talk about headwind and tailwind.
For a cyclist, a headwind is like a never ending hill. When climbing a hill there is the thought always in the back of your mind that once you crest the hill there will be a complementary downhill, usually of equal length and grade. But with a headwind, there is no complementary relief – even the downhill parts of the ride require work. There is no relief unless the wind changes direction (this doesn't happen often) or the wind lets up (this usually doesn't happen untill the evening of the day).
During this trip, thus far, I have only encountered one day when I had to ride into a headwind for an entire day. As I did in those earlier blogs where I thought metaphorically about the uphill and downhill sides of life, I also created a metaphor in my mind for headwinds.
Things have dried out. Time to pack up and hit the road. More on this subject later.
8/8/22
Yes! Headwinds – interestingly enough, I had to deal with a headwind after this entry. It was a strong one but thankfully only intermittent gusts.
The metaphor that occurred to me when riding into a constant headwind was this: For some people, their entire life might feel like they are riding into a headwind. For some – people of color, indigenous people, even women – it may seem like this headwind has lasted for generations. An obstacle that never seems to subside. For these people, this headwind is systemic – without remedy. Totally out of their control. While considering this metaphor, I thought of my own mother – a widow at 35 with three children under 7 who also took on the responsibility of caring for her father who had had a stroke. Trying to get assistance was, for her, humiliating. And so the wind was in her face and seemingly endless. Granted, my mother, being white, did not have the systemic obstacles to deal with unless overcoming poverty is considered an obstacle.
Okay, perhaps riding a bicycle for 5 to 6 hours a day gives me too much time to think. Song accompanying headwinds:
I'm older now, but still [biking] against the wind.

~Bob Seger, "Against the Wind"
I'm currently doing laundry on a rainy morning in Marquette, Michigan (Upper Peninsula on the shore of Lake Superior). This is a big bike town – bike routes all over, particularly along the lake. Sandy beaches, wind generated waves – reminiscent of Popham Beach. The ride here was perhaps my hardest yet. In trying to avoid highway traffic, I took back roads, some gravel, but the last 20+ miles was rocky, sandy, and rolling. In addition, my bike was not operating well in its lowest gears. My progress was slow (<5mph), but once I hit pavement the last 25 miles went better. My attempt at securing a "Warm Showers" host did not produce results. (Ironically in asking a man on the street for a breakfast establishment recommendation, I discovered that he was a "Warm Showers" host – one that I did not contact.) My night was spent under the shelter of a roof beside a public restroom. (Sometimes I feel like a homeless person, which I suppose at this time I am.)
Laundry done, I'm now going to stop in at a bike shop to see if I might diagnose and remedy the problem. I'm also looking for a place that does PCR testing that may help me cross the Canadian border. Until next blog entry.