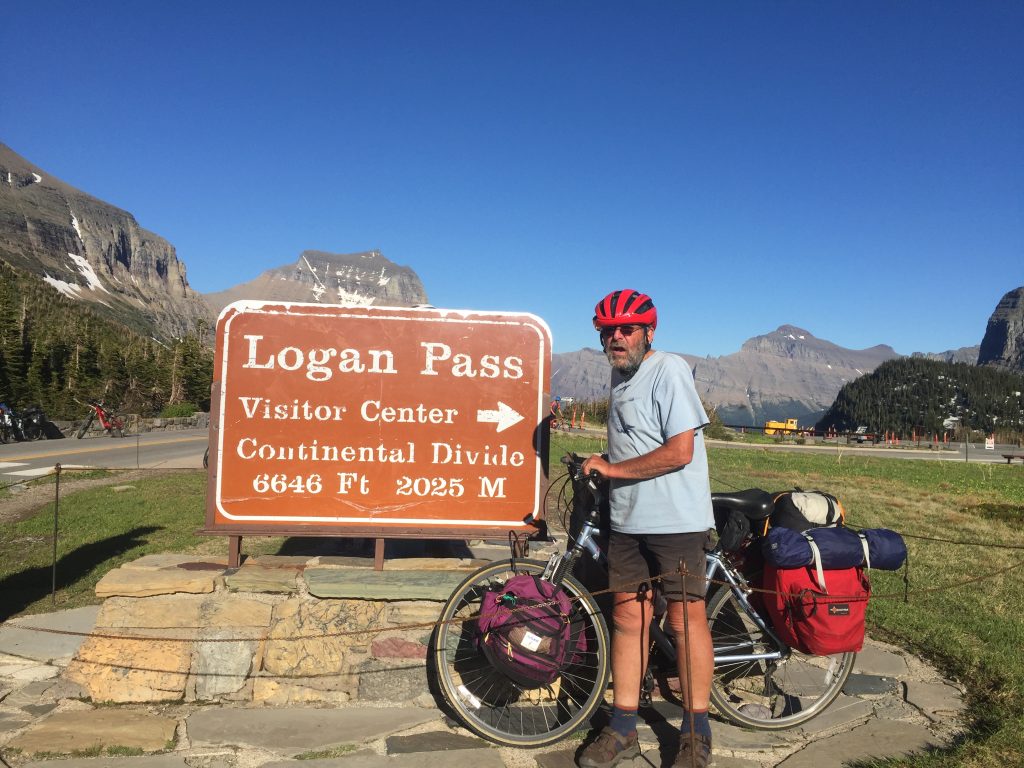 I'm sitting at a picnic table in a city park in Bottineau, North Dakota where I plan to spend the night. A 60 mile ride today with temperatures in the high 80s and a slight headwind has worn me out. So how did I get here from the snowy peaks of Glacier National Park? Here's the story:
I was able to ride the Going-to-the-Sun-Road through Glacier without car traffic. The last five miles were taxing. I even walked some of it, but finally managed to reach the pass at 6,600 feet, then downhill to St. Mary Campground. The next morning, I began to ride to Brownsville, where I had hoped to visit a Plains Native museum. The road to Brownsville, however, turned out to be a 7 mile uphill ride and I found myself, after the previous day's ride, unable to sustain a steady pace. In a state of frustration and defeat, I stuck my thumb out, hoping to get a ride.
After just 10 minutes, a refurbished bus pulled over. Nick, the driver, attached my bike to the back of the bus and helped me load my panniers into the bus. Off we rode, not to Brownsville, but to a magical campground called "Two Medicine." Nick, his wife Amy, their two children, Zak (5) and Lysa (3), and their dog were another example of angels coming to my rescue.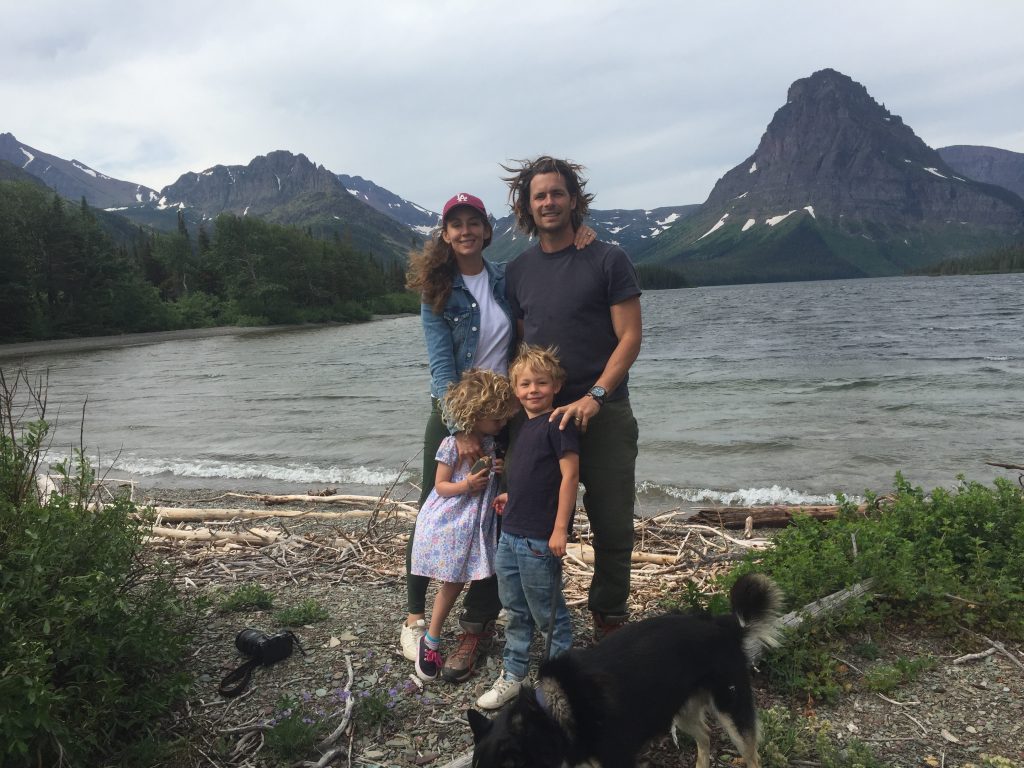 It turned out that Amy was interested in herbal medicine and was familiar with Deb Soule and Avena Botanicals. I stayed with the Smyths overnight at Two Medicine, where they had a small celebration in anticipation of the end of their year long bus journey through the west coast. They then drove to East Glacier where we parted ways. They continued back to Whitefish and I booked a room in a hostel.
The following day, I had booked a train journey from East Glacier to Minot, North Dakota. I had come to the conclusion that the plains – at least the miles of plains that lay in front of me – was not a journey I was very interested in taking. Starting in Minot offered me the ability to ride through some of these high plains without the monotony of long hot days of hay, corn, soybean, rape seed (canola) and wheat.
The train ride to Minot was supposed to be about 12 hours. I was scheduled to arrive in Minot around 10 in the evening. However, there was a freight train derailment in Williston, ND, which prevented our train from getting by. Most of the travelers on the train with me were traveling much further than Minot, so their plans were far more disrupted than mine were. We all had to sleep in the train where it was parked overnight. The following morning we were bussed to Minot, where my trip ended and where those traveling further boarded another train to take them to their intended destinations. The buses were met by another group of folks who were traveling west. Anyway, you can imagine the chaos, frustration, sleep deprivation, etc, etc…
In Minot, while loading my bike with my retrieved panniers, a young man approached me and asked, "Are you Tom from Hope's Edge Farm?" He turned out to be the eldest son of Lisa Packard. I remembered him as a young kid. Lisa and her two sons volunteered at the farm years ago. He recognized me, but I would never have recognized him.
As a result of these above described events, I hadn't pedaled for more than a few miles in almost four days. Now I'm on the road again.