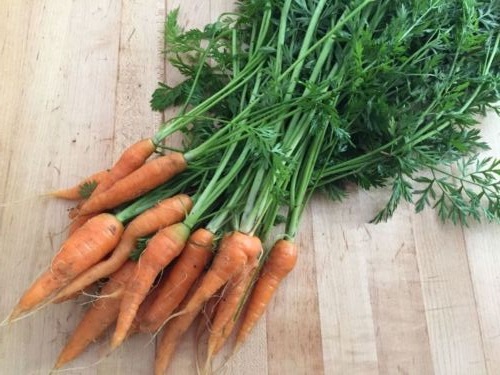 Spring is a season of green. This color is the first to emerge from the dead of winter, slowly at first, then seemingly all at once. The harvest, too, consists mostly of greens: spinach, lettuce, kale, chard, perhaps some scallions and herbs. It always feels exciting to me when we harvest the first colorful roots of the season. How appropriate that we did so on Tuesday of this week: the summer solstice! The glowing orange carrots, once hidden beneath the soil, were like the bright summer sun, suddenly out of hiding!
The summer solstice – the longest day of the year – is a day of light and the shifting of seasons. We are entering the season of bounty! The colors, which began the year in shades of brown and gray, then green, now bloom into a full bouquet. The sun is high overhead in the daytime and fireflies light up the nights. The light is truly at its zenith!
Summer is the season of fruition. Long-held goals and projects are reaching their peak. This is indeed what is happening for your farmers, both near and far! Those tiny seeds we planted in the cold of late winter and nourished through spring will now feed our community with the abundance of summer harvests. All of our planning and preparing is being actualized. As we enjoy the sweet summer carrots and beets here in Hope, Tom is realizing his long-awaited dream of bicycling across the country, sharing lovely, colorful views like this one as he treks through Washington, slowly moving back toward home. 
It was lovely to meet our CSA members last week and we look forward to sharing the rest of the bountiful summer ahead with all of you. As you bite into your first Hope's Edge carrot of the season, think of the sun, the solstice, and the goals and dreams you yourself will see to fruition this summer!
~ Rachel