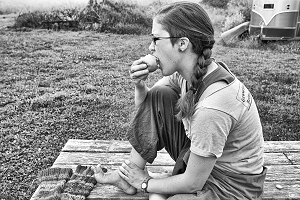 Another week has gone by and quickly it went. Our markets are going well, but we have to continually harvest to keep up with the abundance. Beans, beans and beans. We've been utilizing rainy days to clean and organize the CSA shed and finish the garlic. As beautiful as the onion and garlic drying room is, it's been hard to sit in there hours at a time when I'm looking to get every minute of outside time I can before winter. We do get to chit chat and stay dry, while doing something beneficial, though, and that's a bonus.
We've also been keeping up with the galinsoga (or speed weed) harvest. Just in time for the Galinsoga Festival. We'll be serving Gallant Soldier Brownies, Creamed Galinsoga, Gallon-of-Soda Juleps and an all-you-can-eat Speed Weed Buffet. Don't worry there will be plenty left for the eating contest. Just kidding…
A galinsoga pulling party would be nice though.
The most charming news of the week: Audrey had her calf. In keeping with the theme, Deb Soule named her Angelica
. Audrey pretty much waited until Tommy brought her in for the afternoon to give birth. Simple and easy. If anyone would like to see her when you stop by for your share, just ask Farmer Tom or Tommy if you could get a peek.