August 21st, 2011, 7:07 pm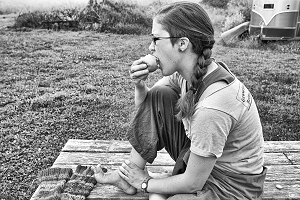 We started off this week with a bit of rain which the plants have been so thankful for, especially since it's toasty now. Though it was a slow start for the week, we got things done, onward and forward. The last of the radishes and hakurei turnips were pulled. Farmer Tom plants oat cover crop in with brassica plantings and those oats were sowed in with the fall brassicas we transplanted last week.
On Tuesday, when the rain really set in, we spent most of the day cleaning off garlic. No wonder garlic costs so much! We passed the time by piping in music and playing various word games. The one we might play next time is Bad Rap, which is a rhyming game following this format: You can't have A without B and you can't have C without D. B and D rhyme and D serves as the A for the next person, e.g., You can't have a stain without a spill and you can't have petroleum without a drill (continued from the title).
For the rest of the week, people flocked to Hope's Edge. On Friday we had a total of 15 people working! We got so much done and what a pleasant surprise! On Wednesday Hope's Edge Farm hosted the MOFGA Apprentices potluck. Tom gave a li'l talk about biodynamics and the group sprayed some biodynamic barrel compost on the fields. At this potluck Farmer Tom said the quote for the week: "I'm the only agronomist working in my field. Literally…"
–Alexandra
Leave a Comment